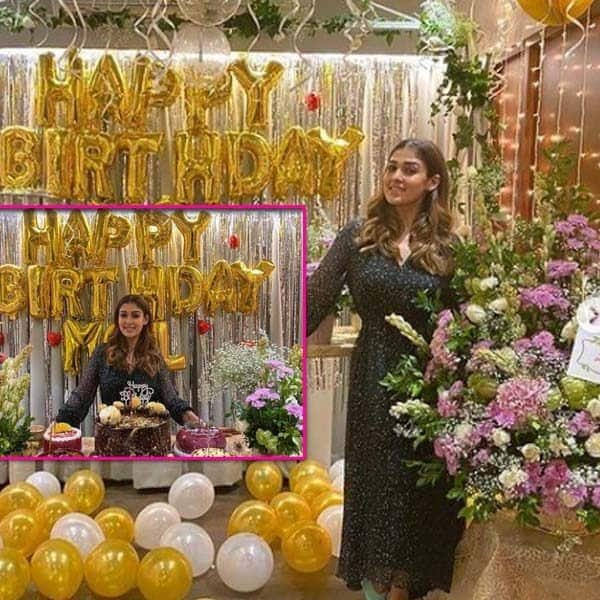 South film actress Nayanthara has celebrated her birthday with great pomp on the last day (18 November). Nayantara Has himself shared some very beautiful pictures from his social media platform. In these pictures, actress Nayantara is seen as a birthday girl, posing fiercely in the midst of many cakes. Sharing these pictures, Nayantara has given the caption 'Birthday'. Although these photos of Nayantara, boyfriend Vignesh Shivan is not seen with him this time. Due to which the excited fans are disappointed to see this romantic couple together.
In these birthday pictures, actress Nayantara is seen in a very cute black dress. While Vignesh Shivan is missing from the photos. Actually, this time Vignesh Shivan was not present on the birthday with actress Nayantara. This information has come from the Tamil director Vignesh Shivan's Instagram. Sharing these photos of Nayantara, he wrote in the comment, 'How lovely … This surprise from Amma, Appa and Lenu Kurian is as good as it could have been. Our beloved Chacha …. I am not here but am extremely missed. But I am happy. You can see these pictures here.
This couple often spends holidays together
The couple had gone on a trip to Goa and Kochi during the Corona virus. During this time, the actress celebrated her mom and later boyfriend Vignesh Shivan's birthday in a very romantic style. These pictures of both of them became very viral on social media.
This couple can marry early
There are continuous reports that Vignesh Shivan and Nayantara may soon get married. However, this couple has not yet given any reaction to these reports. Despite this, such reports are common that this couple is going to get married soon. Recently, there were reports that Nayantara and Vignesh Shivan could get married in a temple in Tamil Nadu. However, neither of these stars has denied these reports nor issued an official statement on their behalf.