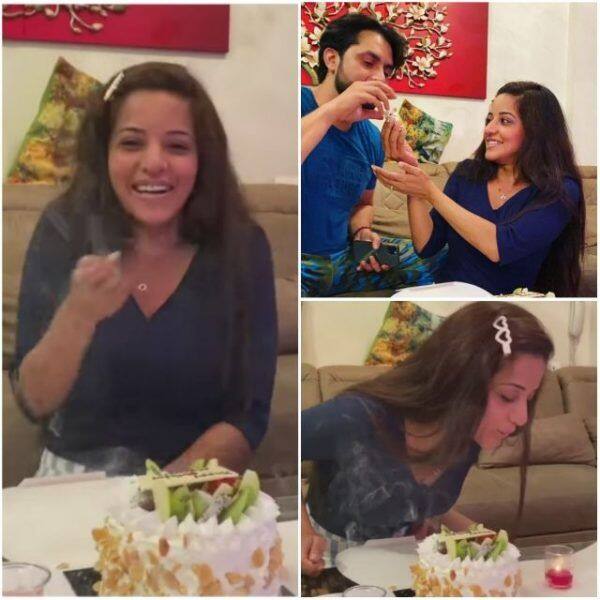 Today is a special day for Bhojpuri and TV's famous star Monalisa. Today Monalisa is celebrating her birthday. Shortly before, Monalisa shared pictures of her birthday bash with fans. Because of Corona, Monalisa has cut the birthday cake with her husband. Due to Corona, Monalisa has not been able to organize the party on her birthday but she has not given up any chance to have fun at home too. Evidence of this is the photographs and videos of Monalisa.
In Monalisa's videos and pictures, she is seen cutting the cake in a very romantic style with her husband. In one picture, Monalisa is feeding cake to her husband Vikrant Singh Rajput with her own hands. Sharing this picture, Monalisa wrote, 'One more year of my life has passed but I still have not grown up. Lots of fun, adventure yet. I have yet to live life I am hoping that in the coming time, my life will go away from the disease named Corona. '
Some of his friends also attended this small birthday party of Monalisa. During cake cutting, a friend of Monalisa poured her face with a cake. In the video, Monalisa is seen trying to escape from this friend, but by then the cake was applied on her face.
Sharing this cute video, Monalisa wrote, 'I have such friends. Because of these friends, I had to get the cake facials for free. Happy birthday to me…. ' These videos and photos of Monalisa have been covered on social media. Fans are unable to control their laughter by watching videos of Monalisa.
See Monalisa's birthday bash post-
Looking at these videos and pictures of Monalisa, it would not be wrong to say that she has not allowed the corona virus to come on its special day. Monalisa has celebrated her birthday with great pride.