Recent bollywood star Govinda Kapil Sharma's TV Realty Show 'The Kapil Sharma Show' Took part in Govinda's nephew in the episode of this comedy show Krushna Abhishek The absence of it knocked out many people and later it became a big issue. Recently, about this, Krishna Abhishek had clarified on his behalf that he intentionally did not want to appear in the show with him. Because some differences are going on in his family, due to which he did not want him to have a bad effect on the show. Krishna Abhishek had said that comedy requires a positive atmosphere. If he is not there then he will not laugh.
Now Chichi has openly responded to these things of his nephew Krishna Abhishek. Bollywood actor Govinda recently released an official statement and spoke openly about his family dispute. Govinda released the statement and wrote, 'I am really sad to release this statement in the media. But I think the time has come when the truth should be revealed to everyone.
Govinda wrote, 'I read the news on the front page of a Leading Daily that my nephew Krishna Abhishek did not perform on a famous comedy show just because I was invited to the show. They thought it better not to do it because they have some differences. He then went to the media and talked about the controversies. These statements were derogatory and show a small thinking. '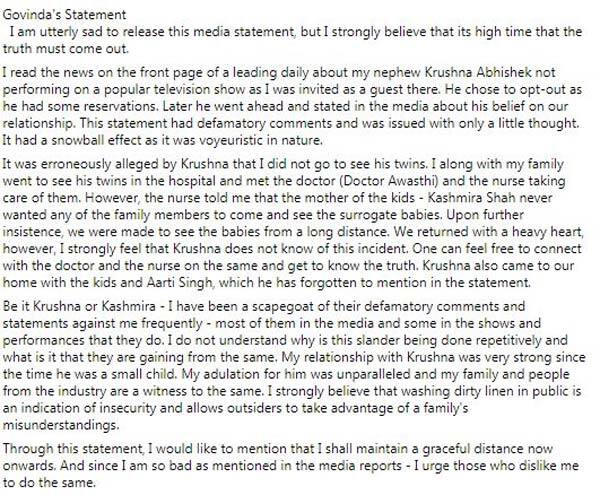 He told about the controversy, 'It has been said many times on behalf of Krishna that I did not go to see his twins. I went to see him with my wife and also met Doctor Awasthi and the nurses who were taking care of him. However, the nurses had informed that the mother of the children i.e. Kashmirira Shah does not want any family member to meet the children and see the surrogate children. But after the prayers we saw the children from a distance. We returned home with a heavy heart. I think Krishna is not aware of this. Anyone can go and talk to those doctors and nurses and know the truth. Krishna himself came to my house with children and Aarti Singh. Perhaps he forgot to say this in the statement.
Not only this, Govinda has written, 'Krishna be it Abhishek or Kashmirira … I have become a target for both. Both often talk about me or perform by marking me. I do not understand what they gain from this. ' Govinda has told that they have had a different relationship since Krishna's childhood. He has said that according to him, due to family relationships due to some misunderstandings, such statements should not be made on each other in the media.